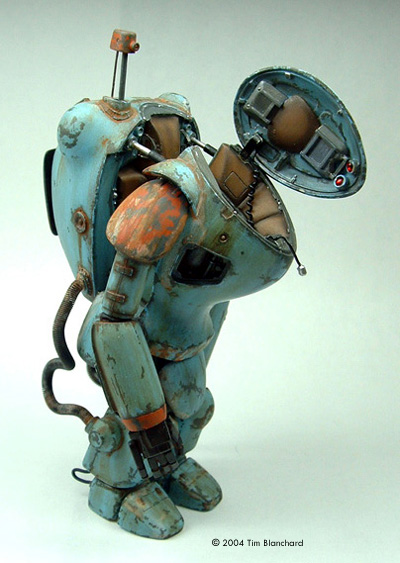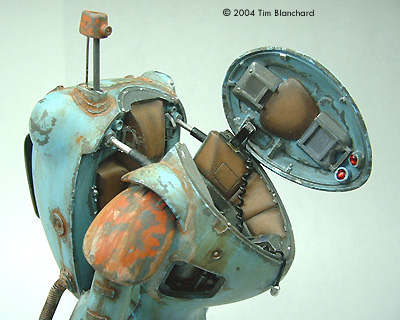 Image: Right/rear view
Image: Left/rear
Image: Left/front
Image: Right side closeup
Image: Innards
This is the Silicone Tribe 1/16 scale SAFS Raptor. It's a resin kit that's no longer produced, but you can find them on eBay occasionally. I really like the larger size of the 1/16 kits (as opposed to the 1/20 scale of the Nitto versions) because of the amount of detail they came with, and have the potential to add to, as well.
Silicone Tribe's kits were the first to offer conjecture into what the SAFS suits would look like on the insides, and how thay might split open for pilot entrance and egress. I racked my brain for a while trying to come up with a way to pose the suit split open, and on my last 1/16 kit, finally decided on insulated wire stripped on one half then painted to resemble a piston. I had to pin the feet to the shins and the shins to the thighs in order to pose the suit bent far enough forward to look right - it's pretty back-heavy. I'm not sure it was intended to be posed so far open, but I wanted to be able to view the insides easily.
The hatch is pinned to the cockpit side with a straight pin via a very small drill bit in my pin vise. MV Lenses for railroad modeling were perfect for the "sights" inside the hatch. Photoetched details from miscellaneous kits provided extra internal details, and clear nail polish over silver-blue paint was used for the monitor.
The Raptor is entirely hand painted, with light sanding between coats to smooth it out. I feel like this really added to the overall texture of the finish. Weathering is with oils, pastels diluted in alcohol, and Euro 1 Grey (Testors MM Acrylic) was hand painted to represent chipping. Painting this on to look real and where it would occur through daily use was harder than I thought it would be, but I'm satisfied with the results.
This kit is part of a larger vignette with a mechanic figure, but I'm not happy enough with it yet to put it all together... maybe soon.