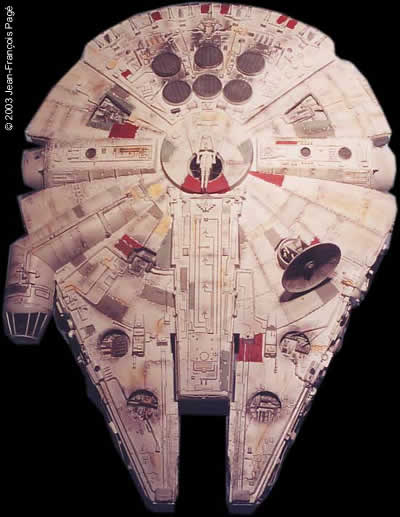 Image: Underneath
Image: Dorsal detail
Image: Sidewall detail
Image: Cockpit
Image: Under construction
This is my Falcon from the ERTL model kit. I did some modifications. I built about 20 Star Wars model kits before doing this model and this project was the most challenging and fun project of them all. The result is nice and a lot better than original ERTL model.

The Model

I trimmed down ¼ inch the side panels because ERTL panels are too high. Cutting sidewalls had impacts on almost every piece. I rebuilt the cockpit interior using sheet styrene and added a lot of details on sidewalls using parts from boat, tank and airplane model kits.

I added some details on the top of the cockpit, trimmed down the "box" on the front face of mandibles and the height of small walls on the front upper hull of the mandibles. Some details were added on the upper hull also.

The rear part, especially the bottom was slightly modified. The engine was replaced by a new sheet of styrene and I paint the blue engine using a "glow in the dark" powder. The illusion is realistic during the night. Details were then added on the rear bottom hull.